A Few Words

Ein paar Worte
On Figuration
Über Figurenmalerei
All the new works of Siegfried Räth testify his passion for the image of man. We find his figures involved, almost entangled in sceneries, interiors or in the play of simple abstract surfaces. They appear in a refreshing brilliant post-modern imagery, side by side as carefully formed silhouettes, as outline-based paintbrush drawings and as bodies of high sculptural plasticity.
Alle neuen Werke Siegfried Räths geben Zeugnis von seiner Leidenschaft für das Menschenbild. Wir finden seine Figuren eingewoben, ja geradezu verstrickt in Landschaften, Interieurs oder das Spiel einfacher Flächen. Sie erscheinen in einer erfrischend hellen postmodernen Bildsprache nebeneinander als sorgfältig geformte flächenhafte Silhouetten, als lineare Pinselzeichnungen und als Körper von hoher plastischer Durchbildung.
The action within the pictures mysteriously makes sense, the single symbols refer to different meaning levels and meaning times and perceptibly relate strongly with each other. Figures take the same rank like all the other things shown on the picture stage. Rarely they dominate the events, seldom they are active – their tolerance transforms them into a mechanically acting equipment of a piece unexplained to them. Each action only reaches as far as the intervention of the next figure allows – there is no action that would not be limited by another action.
Die Handlung der Bilder ist in rätselhafter Weise sinnhaft, die Einzelsymbole verweisen auf verschiedene Bedeutungsebenen und -zeiten und sind spürbar stark aufeinander bezogen. Figuren nehmen auf der Bildbühne den gleichen Rang ein wie alle anderen dargestellten Dinge. Selten dominieren sie das Geschehen, selten handeln sie aktiv – ihre Duldsamkeit verwandelt sie in mechanisch handelnde Requisiten eines ihnen unerklärten Stücks. Jedes Handeln reicht nur soweit, wie es das Eingreifen der nächsten Bildfigur zulässt – es gibt kein Tun, das nicht durch ein anderes Tun begrenzt würde.
Liebau Gallery, 2008

Galerie Liebau, 2008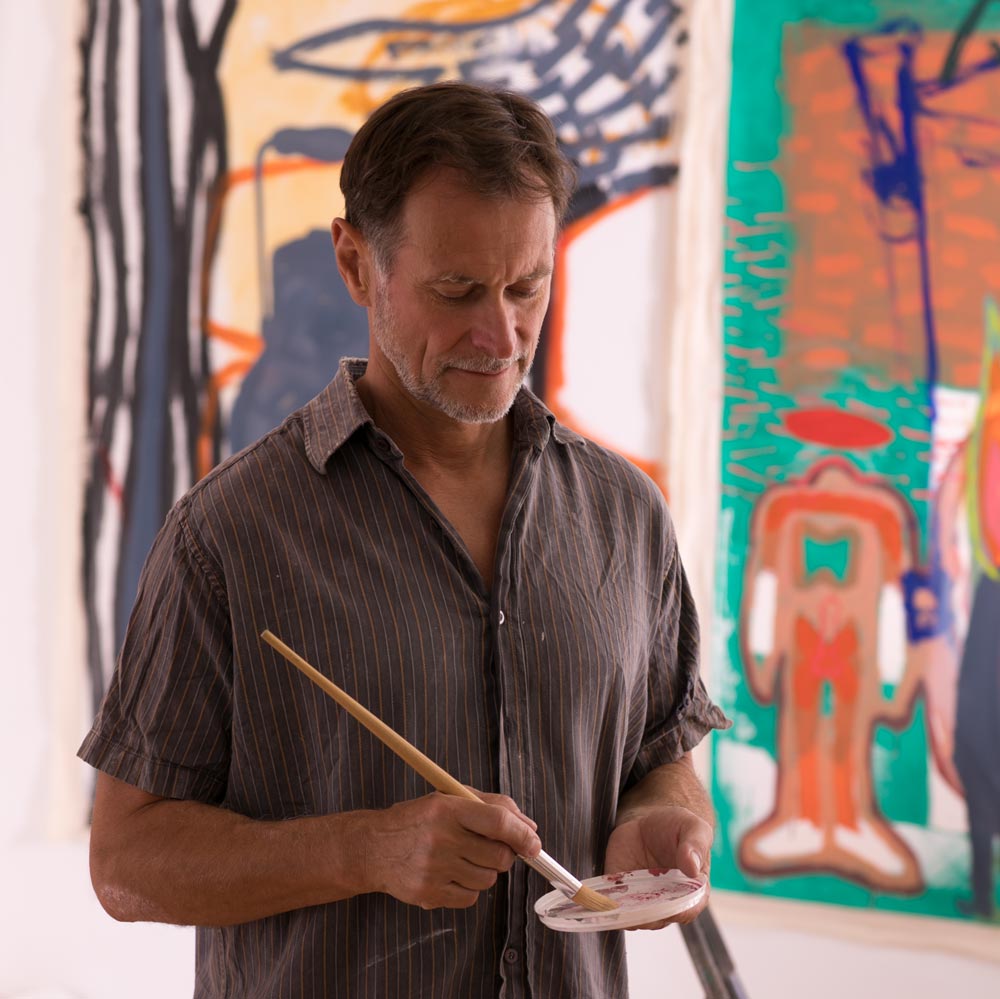 To my Viewers
An meine Betrachter
Many viewers of my pictures want me to tell them the story behind the work. I am to explain the picture and its contents. But even if I wanted to fulfill that wish, I could not do it! The thoughts gathered in my works are far too complex, too ambivalent, and interwoven to be put into words. I find their content and stories only through long exploration and development – and sometimes I do not even know myself how a shape or a figure came to me.
I also have to admit that I like to undermine clear statements and unambiguities, because I think clarity and unambiguity are trivial. Much of the content of my pictures therefore cannot be encapsulated in words.
Viele Betrachter meiner Bilder möchten von mir die ganze Geschichte zum Werk hören. Ich soll das Bild erklären, ihnen die Inhalte auseinandersetzen. Aber selbst wenn ich diesem Wunsch nachkommen wollte: ich könnte ich es gar nicht! Die in meinen Werken versammelten Gedanken sind viel zu komplex, zu ambivalent und ineinander verwoben, um in Worte gefasst zu werden. Ich finde diese Inhalte und Geschichten erst durch langes Explorieren und Entwickeln – und ich weiß manchmal selbst nicht, wie eine Form oder eine Figur zu mir kam.
Außerdem muss ich zugeben, dass es mir gefällt, klare Aussagen und Eindeutigkeiten zu unterlaufen, weil ich Klarheit und Eindeutigkeit für trivial halte. Viele Inhalte in meinen Bildern entziehen sich deshalb dem Zugriff von Worten.
But, on the other hand, I realize that finding a story helps my viewers get a foothold in a picture, and perhaps feel at home with it. That's why I sometimes give away one or two of my thoughts as tiny traces of inspiration – but no more than that! What I hope for from the viewer of my pictures is that he moves on independently in the picture and takes his time doing so. He should go ahead and find his own content in the visual forms, by himself or in conversation with others. He is to give the forms, the points and the lines his names, his concepts. It is important that he looks at the picture and loses himself more and more in it. The work should be a landscape for him to explore. Then he will feel the aura that I have painted for him – he will feel it when he is in the picture.
Aber mir ist auf der anderen Seite bewusst, dass das Aufspüren einer Geschichte meinen Betrachtern hilft, in einem Bild Fuß zu fassen und vielleicht darin heimisch zu werden. Deswegen verrate ich manchmal einen oder zwei meiner Gedanken als kleine inspirierende Spuren – aber nicht mehr! Was ich dann vom Betrachter meiner Bilder erhoffe, ist, dass er sich darauf hin selbstständig weiter im Bild bewegt und sich dabei Zeit nimmt. Er soll ruhig seine eigenen Inhalte zu den Bildformen finden, ganz für sich oder im Gespräch mit anderen. Er soll den Formen, den Punkten und den Linien seine Namen, seine Begriffe geben. Wichtig ist, daß er im Bild sucht und sich mehr und mehr im Bild verliert. Das Werk soll eine Landschaft sein, die er erkundend durchwandert. Dann wird er die Aura spüren, die ich ihm ermalt habe – er wird sie fühlen, wenn er im Bild ist.
2018, based on a Text from 1997
2018, basierend auf einem Text von 1997